Free eBook: In Five Steps – How to Successfully Introduce Document Management



With DocuWare, Your Company Can Quickly and Securely Benefit From Digital Document Management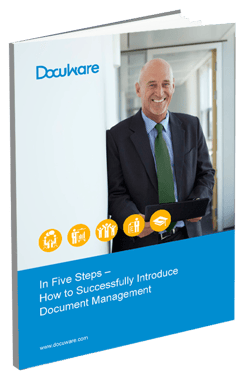 Introducing a document management strategy in your office is an incredibly beneficial business choice, but it can come with a sense of hesitation from employees. Those not comfortable with digital documents may worry about adapting to new technology, or highlight other key concerns to their managers,

If you want to implement a new document management strategy in your company, look no further than our eBook: In Five Steps – How to Successfully Introduce Document Management. Within this eBook, we address learning curves such as:
Orientation

Client Presentation

And much more!
To learn the five steps to successfully introducing document management, simply fill out the form to the right and have this eBook sent straight to your inbox!