Free Guide: 28 Questions to Ask to Avoid Choosing a Poor Document Scanning Provider
Avoid low-quality scans as well as loss of time and money by choosing the right provider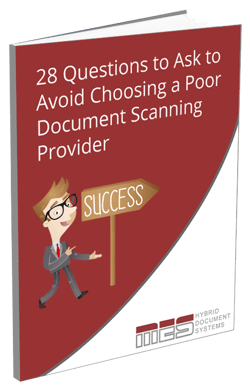 When you're looking to scan important documents, it's vital to choose the right partner for your scanning project.
It's important to consider several factors when choosing a provider. You're going to want to think about:
Equipment capabilities

Certifications

Security safeguards

Reputation

Expertise and more
If you have questions, we have the answers. In fact, we've put together a handy list of questions you should be asking during your decision process. This way, you can ensure that your provider is top notch.
Fill out the form on the right to download the full list of 28 questions.